Microwave Networks' Radios, Cyber Security,
and Networking Products
Microwave Networks provides the most reliable and flexible microwave radios in the industry, ensuring mission critical reliability and network availability. Our radios provide high capacity  throughput, are protected by cyber security controls, and integrate with MPLS networking.
Highlights:
4-80 GHz
Point-to-Point
Point-to-Multipoint
Licensed & Unlicensed
Hybrid Native TDM and Native Ethernet
Indoor, Split Mount, Outdoor
Design, Build, Support Technical Services
Cyber Security
Advanced Networking/MPLS
Select a product below to learn more about a particular solution.
Proteus MX
Native TDM and native Ethernet/IP Transport Radio

The Proteus MX is a mission critical Ethernet/TDM Hybrid radio. Designed for bandwidth speeds up to 350 Mbps, it offers Ethernet and TDM signaling in a single, feature rich, and fault tolerant platform, allowing easy migration from TDM legacy networks to Ethernet. The Proteus MX is designed with redundancy of all traffic and overhead channels and with automatic switchover. These features makes it the perfect choice for Public Safety, Government, Utility, and Critical Infrastructure networks.
Highlights:
6,7,8,11,13,15,18,23,26,38 GHz
6 to 350 Mbps
Native Ethernet and Native TDM
10/100/1000 BaseT Ethernet
4 to 128 DS1; 1 to 4 DS3; OC-3/STM-1
All Indoor or Split Mount configurations
1+0, 1+1, 2+0, Space Diversity, Frequency Diversity
VLAN using IEEE 802.1p & 802.1Q for Traffic Class priorities (QoS)
Adaptive Code Modulation (ACM)
Ethernet Rapid Ring Protection (RRP)
TDM SHARP self healing ring protection
Errorless diversity switching protection
Complete hot-standby protection
Redundancy of all active components
FIPS 140-2 Level 2 validated
AES 128 and 256 Encryption
Secure Network Management with SNMPv3
Built-in chart recorder for real-time diagnostics
MPLS ready
Public Safety, Government, Utilities, and Critical Infrastructure networks
Proteus MX+
Gigabit Ethernet with native TDM backhaul radio
The Proteus MX+ is the next generation Ethernet/TDM hybrid radio, featuring higher data rates and improved system gain.  With single channel data rates above 500 Mbps, and provisions for two separate RF channels in a single hop, data rates exceeding 1 Gbps are achieved.  The Proteus MX+ was designed specifically for Mission Critical applications with exceptional reliability, 100% redundancy of all traffic carrying channels, and superior system gain for maximum path availability, making it the perfect choice for Public Safety, Utility, Government, and Critical Infrastructure networks.
Highlights:
6, 7, 8, 11, 13, 15, 18, 23, 26, 38 GHz
All Indoor and split Indoor/Outdoor configurations
QPSK to 2048 QAM modulation with software upgrade to 4096 QAM coming soon
10 to 500+ Mbps per RF Channel
One or two RF Channels per radio terminal
1+0, 2+0, 1+0 Repeater, 1+1, 2+2, 2+2 Repeater
Layer 1 Physical Link Aggregation for 2 RF channel radios (2+0, 2+2, 2+2 Repeater)
Cross Polarization Interference Cancelation (XPIC)
10/100/1000 BaseT Ethernet
16 DS1, 2 DS3 and OC3/STM-1 – native format TDM support
Adaptive Code and Modulation (ACM) with Bandwidth Notification (Y.1731 BN-ETH)
IEEE 1588-2019 Precision Time Protocol Transparent Clock operation
AES 128 and 256 Payload Encryption
Ethernet Rapid Ring Protection (RRP) for loop protected systems
DS1 Self Healing Alternate Route Protection (SHARP) for loop protected systems
Complete hot-standby protection with 100% redundancy of active components
Layer 2 Link Aggregation for co-located radios
Secure network management protocols (SNMPv3, SSH)
Built in Chart Recorder, Constellation Viewer and up to 1 year Event Logging
Proteus Cybershield
Cyber Security Controls and Protects
The Proteus Cybershield is a platform designed to enable industrial, commercial, and critical infrastructure operators to dramatically improve the reliability, safety, and cyber security of their assets at minimal cost and without disruption to existing Industrial Control Systems.
The platform proactively identifies and mitigates Cyber attacks by using innovative AI (Artificial Intelligence) technology that monitors electrical signals between the asset and the Programmable Logic Controller (PLC) at the lowest, basic, physical level (Level 0).
These electric signals at the source are being analyzed before being filtered during conversion to a network data stream by the PLC, which enables discovery of anomalies that may otherwise go undetected.
Early detection extends visibility beyond common data controls, while also enabling preventive and corrective actions which improves resilience and overall reliability of critical assets when faced with a cyber attack.
NEW AND UNMATCHED VISIBILITY INTO PHYSICAL PROCESSES: Uniquely located between sensors or actuators and PLCs, the Proteus Cybershield Platform provides real-time alerts at the very first sign of a process anomaly, whether caused by an electrical/mechanical fault or a cyber-attack.
QUICK & EASY TO INSTALL: Uniquely located between critical process sensors and PLCs
ACCURATE:  Real-time operational status of your monitored equipment
NO FALSE ALARMS: Early warning with virtually no false alarms or missed anomalies
RELIABLE: Fully integrated on an electrical level (i.e. the most reliable source of information)
MACHINE LEARNING: Artificial Intelligence algorithms remove the need for complicated rule setups
UNCIRCUMVENTABLE: 100% out-of-band (i.e. installed on-site in complete isolation from externally-connected communications networks)
PREDICTIVE MAINTENANCE: Provide unparalleled insights into device and sensor performance, optimizing industrial equipment maintenance strategies and costs
ASSET PERFORMANCE OPTIMIZATION: Bring new and unmatched visibility into physical processes to support intelligent decision-making about industrial operations
CYBER SECURITY: Alert control system operators in real-time of operating anomalies that may signal a cyber attack targeting any element of the control system
SAFETY MANAGEMENT: Strengthen industrial safety management by identifying, assessing and mitigating risk in equipment and sensor operations
Proteus OIP
6-38 GHz licensed all outdoor radios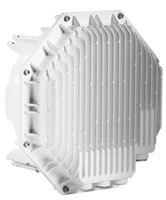 Proteus OIP is Microwave Networks' complete Ethernet transport solution for networking with stringent zero footprint installation requirements.
It is ideal for use in Public Safety, Utility, Railroad and LTE networks. This fully featured radio is fast and easy to install and is ideal for use in ring topologies and MPLS networks; and1+1 hot-standby protection also provides high reliability in networks where alternate route protection is not possible.
By eliminating the need for rack space in shelters or enclosures, Proteus OIP+ offers the perfect solution for low impact installation while providing carrier-grade service and reliability with a rapid ROI.
Highlights:
36 to 360 Mbps

Frequencies: 6,7, 8, 11, 15, 18, 23, 26 & 38 GHz

Configurations: All Outdoor 1+0, 1+1

Features: Hitless Adaptive Code & Modulation

Automatic Transmit Power Control

10/100/1000 Base T RJ-45 Ethernet

SFP Optical 1000 Base X Ethernet

MEF 9, MEF 14 compliant

QoS, Q-in-Q

Synchronous Ethernet, G.8261/8262/8264

IEEE 1588v2 Precision Time Protocol support

Ethernet OAM – IEEE 802.1ag, ITU-T Y1731
Proteus UMX
4.9 and 5.8 GHz lightly licensed PTP and PMTP radios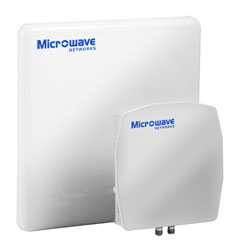 Unlicensed and Licensed Carrier Grade Wireless Bridge
Proteus UMX offers one of the most advanced point-to-multipoint wireless bridge in the market. Its OFDM waveform and 2×2 dual-polarization MIMO architecture along with an innovative traffic discrimination algorithm delivers an unprecedented aggregate net throughput of up to 310 Mbps. By analyzing the actual traffic load, the system dynamically optimizes the uplink and downlink capacity, providing net throughput of up to 310 Mbps in a single direction.
Specifically designed for robust operation in congested areas with high levels of RF interference, Proteus UMX eliminates false reception of background noise via a unique Automatic Interference Sensibility (AIS) algorithm, guaranteeing stable performance while maintaining a constant latency and throughput.
High Performance

Superior net throughput – 310 Mbps
Dynamic Asymmetric Capacity
Very low latency – 1ms typical
More than 60,000 PPS (packets per second)
Configurable channel bandwidth – 5/10/20/40 MHz
Point-to-Point and Point-to-Multipoint modes
Radio Frequencies:
900 MHz, 2.0 – 2.3 GHz, 2.3 – 2.7 GHz, 3.3-3.8 GHz, 4.4-4.6 GHz, ,
4.8-4.95 GHz, 4.95-5.15 GHz, 5.15-5.25 GHz, 5.25-5.35 GHz, 5.725-5.85 GHz
Robust Operation
Automatic Inference Sensibility (AIS)
Time Synchronization
MIMO Radio – higher capacity, longer range, diversity
Hitless ACM (Adaptive Coding & Modulation)
Automatic Channel Selection (ACS)
Dynamic Frequency Selection (DFS)
Automatic Transmit Power Control (ATPC)
Forward Error Correct (FEC)
Fast Automatic Retransmit request (ARQ)
Advanced Networking
WEB, EMS, SNMP and Telnet management
QoS based on 802.1Q & 802.1p
VLAN tagging/stripping
Up/downstream bandwidth control
Packet filtering – based on broadband & VLAN
Over the air remote management
128-bit AES encryption & MAC level authentication
Ease of Ownership
Rugged & reliable weather resistant design
Compact and simple to use
RSSI buzzer for easy alignment
Built-in RF Analyzer
Built-in power redundancy
"Green" operation: under 6W consumption
Multiple frequency bands in the same radio
Proteus E-Band
70-80 GHz high capacity short haul radios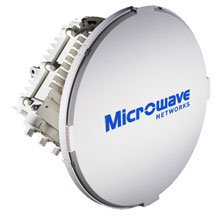 The Microwave Networks Proteus E-Band radio is a high capacity wireless bridge, ideal for short haul applications, serving as a primary path between campus buildings where is fiber is not available or not feasible.
Applications:
Mobile backhaul
Fiber extension
Small cell deployments
Wi-Fi offload backhaul
Security cameras
Campus connectivity
Capacity aggregation
Feature Highlights
70 – 80 GHz Bands
1 to 5 Gbps FDD
Simple, fast licensing
Layer 2 switch
QoS and VLAN capabilities
Compact all outdoor design
SNMP NMS
Advanced Networking MPLS
Multi Protocol Label Switching
MPLS (multi protocol label switching) enables transition from legacy to IP networks, transporting voice, data, and video. MPLS solves the problem of transporting multiple technologies over a single medium while ensuring security and guaranteed delivery of high priority communications. It is especially suitable for dynamic and growing P25 and LTE networks.
In addition, local city and county government organizations can share bandwidth efficiently among different departments utilizing a single shared network, rather than several purpose built networks.
Microwave Networks has integrated MPLS with its Proteus MX radios in several public safety and utilities networks over the years. We have developed scripts to integrate MPLS with Proteus MX radios.
Microwave Networks focuses on mission critical MPLS applications. Our MPLS designs provide Mission Critical functions including,
Pre-planned Paths
Automatic Fast Reroute
Traffic Prioritization – Class of Service (Quality of Service)
Traffic Prioritization under various Adaptive Code & Modulation rates
VPN encryption
Dynamic bandwidth
Network segmentation
Network managers control where and how data flows. Paths are pre-planned, often based on best paths for speed, capacity, latency, jitter, and redundancy.
Network Management Systems
Network and element management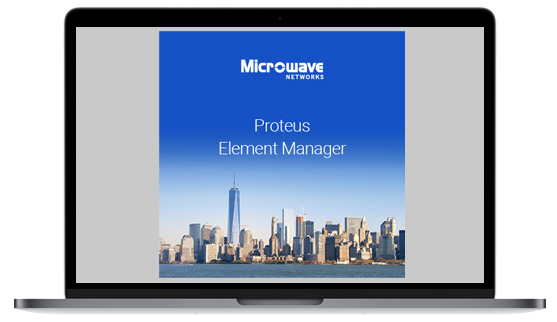 To help simplify management, each of our microwave radios employs the standard SNMP protocol which allows the flexibility to tie into existing management systems, or become the framework for its own.
Among the many features of our radios which facilitate SNMP management are embedded routers, across-the-hop IP transport, Ethernet bridges, and peer-to-peer connectivity. Product-specific element management programs shipped with each system, can be run from a laptop or central manager to allow complete access to any or all radio terminals. The embedded features mentioned above combined with a standard SNMP manager, gives a network operator complete flexibility and control of his network and its individual components.
SPARCS SNMP NMS
Unlimited Remote Access. Support for up to 25,000 devices per license.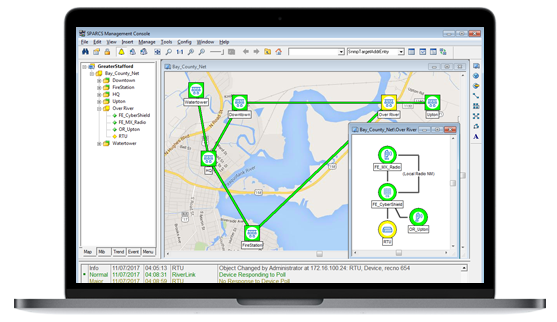 Element Manager
Provides complete network management capabilities to monitor and control the entire microwave radio infrastructure.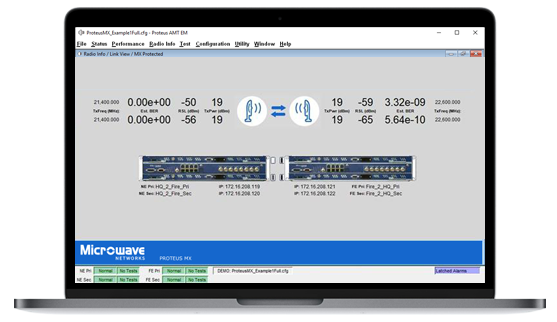 Chart Recorder
Built-in diagnostic tool to aid in troubleshooting path or propagation related issues.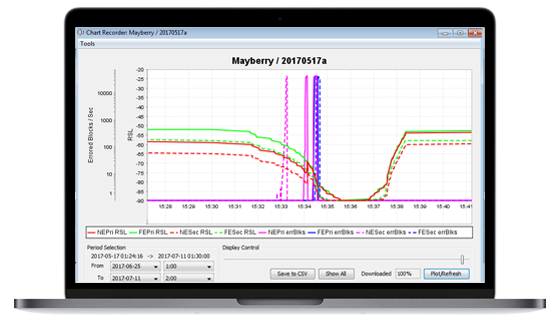 The Network Health Mobile Application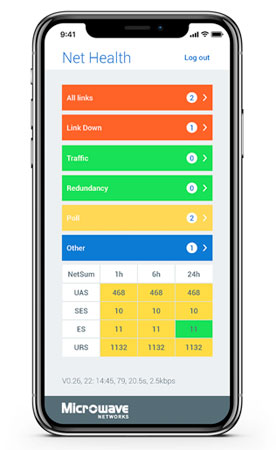 NHMA is a web application that monitors a network of Microwave Networks radio links and reports the network's state to users on their mobile smart phones, tablets or laptops. The NHMA server can be accessed by users on the corporate intranet, and can also be made available (through the corporate firewall) to employees over the public Internet. The NHMA is a pure web application that is accessed through the client devices' web browsers, so no client software installation is required. The NHMA runs in parallel with the existing Microwave Networks Element Manager and Microwave Networks Element Management System, supplementing but not replacing them.
NHMA Features
Notifies mobile users when problems occur via email or SMS text
Lists the radio links by the categories of problems, giving a quick overview of the overall network state.
Gives a summary of the state of any particular link, including key performance statistics and a complete list of current alarms.
Integrated access to street maps (showing radio terminal locations) and current National Weather radar maps.
Provides a summary of performance of each link and the entire network over last 24 hours